---
2022 Festival Information:
We're currently planning the 2022 Burlington Irish Heritage Festival! Please consider joining our mailing list at the bottom of the page and check back soon for more details!
---
2021 Festival Information:
Dear Festival Followers:
Our heartfelt thanks to all of you who connected with our events and supported our 26th Burlington Irish Heritage Festival. Despite all the challenges of putting on a virtual festival, it was quite a success, with above average audience turnout for all events and a lively finale showcasing many of our most talented artists and performers.
In case you missed anything, don't despair! Just click on the button below to find the schedule. Then click on the links for playlists or video recordings that you would like to see or revisit.
Despite its success, we do hope this is our first AND last virtual festival, and that we can all be together in real space to celebrate St. Patrick's season in 2022!
Gach rath,
The Burlington Irish Heritage Festival Planning Team
For our 2021 Schedule and access to events
About the 26th festival: WCAX News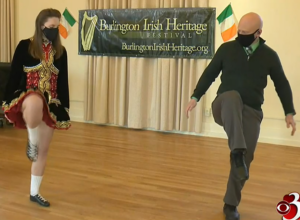 In these two short segments, WCAX reporter Scott Fleischmann interviews a BIHF committee member about this year's Festival and makes a valiant attempt to learn a jig – in less than three minutes – from Gerlisa Garrett of the Garrett School of Irish Dance.
"Samhain in Vermont"!
A special one-hour video presentation of the Burlington Irish Heritage Festival, broadcast on VCAM, Burlington's Channel 15 (Comcast Channel 1074).
Samhain is a Gaelic harvest-time festival – the Celtic origin of Hallowe'en – when magic and mystery abound. For Hallowe'en in our 25th year, the Burlington Irish Heritage Festival is proud to present a special celebration: Samhain in Vermont, featuring some of our best loved musicians and dancers.
The hour-long show combines wonderful footage from O'hAnleigh, Young Tradition Vermont, and the Garrett School of Irish Dance against a thematic narrative and visual background.
You can view the program here.
go raibh maith agat (thank you)
agus fanacht sláintiúil (and stay healthy)
The BIHF Team
---
---
Memories from previous festivals can be found here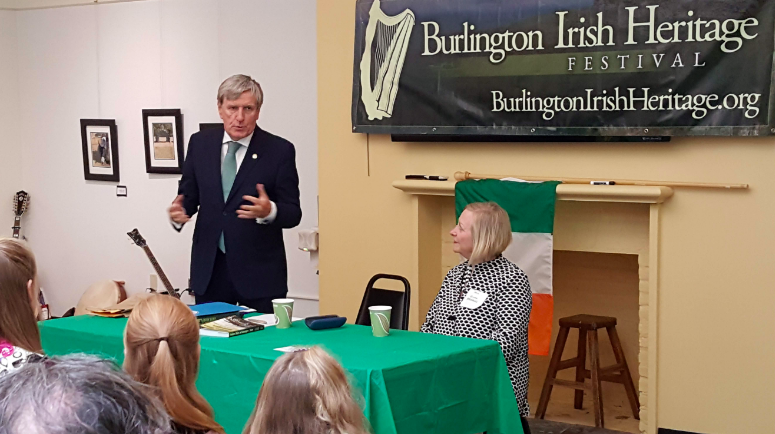 ---
In the news…
The 25th Burlington Irish Heritage Festival was recently featured on on WCAX in Burlington. The article, with some accompanying videos can be found at https://www.wcax.com/content/news/Burlington-Irish-Heritage-Festival-kicks-off-this-weekend-568278141.html
---
Thank you to our 2020 sponsors and partners!
Platinum
Silver