---
Sláinte!
Thanks to everyone for a wonderful 2022 Festival! It was fantastic being back in person this year and many of our events were full or close to full. We're looking forward to seeing you in 2023!
---
2022 Festival Information:
Cead Mile Failte indeed! Or in the case of this year's festival: a hundred thousand "welcome-backs!" The Burlington Irish Heritage Planning Committee would like to welcome you all back to our first in-person festival since 2019! Last year we hosted a set of wonderful virtual events, but we were unable to be in-person. And since community is a hallmark of Irish culture, we are happy to be able to enjoy it together. This year, we will continue some of the online offerings to accompany an exciting collection of in-person music, dance, poetry and film activities throughout the month of March. Our group organized some of these events, while others were arranged by local groups like Young Tradition Vermont and Vermont Genealogy Library. And we'd like to acknowledge Fletcher Free Library for once again hosting many of our events. We'll be happy to see you at venues around Vermont for some of our old favorites as well as many new performers and events! The button below will bring you to the event calendar for this year's festival. Sláinte!
---
---
"Samhain in Vermont"!
A special one-hour video presentation of the Burlington Irish Heritage Festival, broadcast on VCAM, Burlington's Channel 15 (Comcast Channel 1074).
Samhain is a Gaelic harvest-time festival – the Celtic origin of Hallowe'en – when magic and mystery abound. For Hallowe'en in our 25th year, the Burlington Irish Heritage Festival is proud to present a special celebration: Samhain in Vermont, featuring some of our best loved musicians and dancers.
The hour-long show combines wonderful footage from O'hAnleigh, Young Tradition Vermont, and the Garrett School of Irish Dance against a thematic narrative and visual background.
You can view the program here.
go raibh maith agat (thank you)
agus fanacht sláintiúil (and stay healthy)
The BIHF Team
---
---
Memories from previous festivals can be found here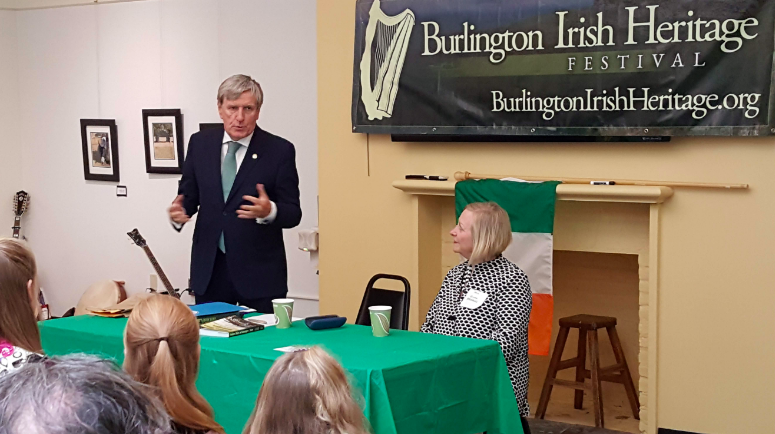 ---
In the news…
The 25th Burlington Irish Heritage Festival was recently featured on on WCAX in Burlington. The article, with some accompanying videos can be found at https://www.wcax.com/content/news/Burlington-Irish-Heritage-Festival-kicks-off-this-weekend-568278141.html
---
Thank you to our 2020 sponsors and partners!
Platinum
Silver