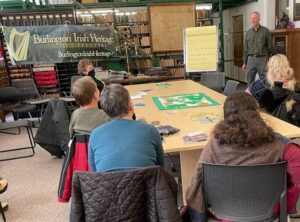 This will be an informational session for people who have had little or no previous contact with Irish (also known as Gaelic) and are interested in learning more about it.  Topics will include:
History and current status of the language
Guidelines for pronunciation
Basic sentence structure
Useful phrases, proverbs, etc.
Dialects of Irish
Description of available courses for adult learners, including both live and online courses
Location: Local History Room, Fletcher Free Library, 235 College St., Burlington.
Admission: Free! Donations welcome. In-person participation only and tickets are limited. Advance Registration required HERE via Eventbrite.