2021 Festival Information:
Dear Festival Followers:
Our heartfelt thanks to all of you who connected with our events and supported our 26th Burlington Irish Heritage Festival. Despite all the challenges of putting on a virtual festival, it was quite a success, with above average audience turnout for all events and a lively finale showcasing many of our most talented artists and performers.
In case you missed anything, don't despair! Just click on the button below to find the schedule. Then click on the links for playlists or video recordings that you would like to see or revisit.
Despite its success, we do hope this is our first AND last virtual festival, and that we can all be together in real space to celebrate St. Patrick's season in 2022!
Gach rath,
The Burlington Irish Heritage Festival Planning Team
---
About the 26th festival: WCAX News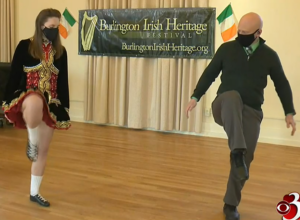 In these two short segments, WCAX reporter Scott Fleischmann interviews a BIHF committee member about this year's Festival and makes a valiant attempt to learn a jig – in less than three minutes – from Gerlisa Garrett of the Garrett School of Irish Dance.
---
Festival Poster
Schedule March 13-17
---
Summary
Saturday, March 13
Welcome Message from Burlington Irish Heritage Festival
Greeting from Vermont Lieutenant Governor Molly Gray
Irish Songs: Andy Naughton
Kitchen Ceili Dance Lesson 1 with Gerlisa Garrett
Finn McCool Children's story, Ruth Murphy
Traditional Music: Anthony Santoro and Scott Lemire
3:00 pm – 6:00 pm Live Events
Sunday, March 14
Kitchen Ceili Dance Lesson 2 with Gerlisa Garrett
The O'hAnleigh Hour
Monday, March 15
12:00 pm YouTube Videos
Tuesday, March 16
6:30 pm – 8:00 pm Live Event
Wednesday, March 17
Traditional Music. The Zeichner Trio
'I Am Ireland' Poetry. Cindy Hill & Tom Hanley
Kitchen Ceili Dance Lesson 4 with Gerlisa Garrett
Fiddle Music. Sarah Blair
The McFadden Academy of Irish Dance
Plus interspersed live performances (see full calendar listing below)
---
Full Calendar Listing
Saturday, March 13
12:00 noon
A Greeting from Lieutenant Governor Molly Gray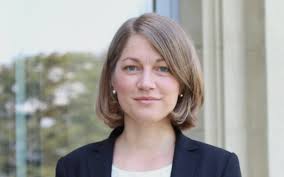 The Vermont Lieutenant Governor shares stories of her roots in Vermont and family connections to Ireland in a brief welcome message to this year's virtual Burlington Irish Heritage Festival.
Irish song with Andy Naughton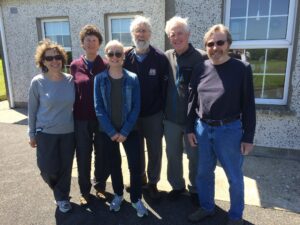 "An Crann Sí" ("The Fairy Tree")
"Cill Aodáin" ("Kiltimagh, County Mayo") written by Antoine Ó Raifteirí (Anthony Raftery).
Andy's parents emigrated from the County Mayo. His father was quite a good singer and fluent in Irish, and it was from him that Andy first heard the language, the sound of which he loves.
Kitchen Ceili with Gerlisa (1): How to Dance Threes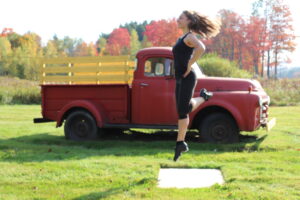 The Garrett School of Irish Dance celebrates the tradition and innovation alive in Irish dance today. Its owner, Gerlisa Garrett, will present for the Festival a series of short, simple lessons introducing you to the footwork of ceili dancing. In this first mini-lesson, she will demonstrate the 'threes' step that is basic to all ceili dances. Gerlisa Garrett, TCRG, is certified by the Irish Dancing Commission (CLRG) in Dublin, Ireland. Facebook
Finn McCool: Children's Story with Ruth Murphy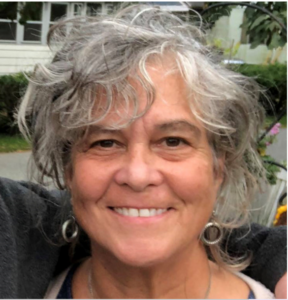 Ruth M. Murphy, a long-time Spanish teacher and reading specialist, has been enchanted by the Irish use of language as long as she can remember. The older relatives' turn of a phrase, the folktales, the poems, the plays and the novels are all aspects of her Irish heritage that she treasures most. For many years, Ruth was on the planning team for Burlington Irish Heritage Festival, but this year she joins us from the living room of her new home in Denver. She will be reading the story, 'Finn McCool and the Great Fish' by Eve Bunting, illustrated by Zachary Pullen (Sleeping Bear Press, 2010)
Traditional Music with Anthony Santoro and Scott Lemire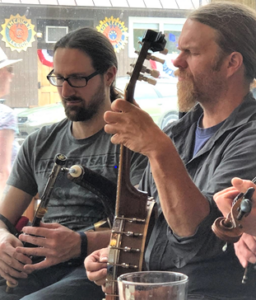 New Hampshire based musicians Scott Lemire and Anthony Santoro come to the Burlington Irish Heritage Festival with a varied selection of traditional Irish dance tunes on uilleann pipes, tenor banjo and whistles: jigs, reels, set dances, slip jigs and more. This session was recorded in October 2019 at the Anonymous Coffeehouse in Lebanon, NH.
3:00 – 6:00 pm
Live Events
3:00 – 4:00 pm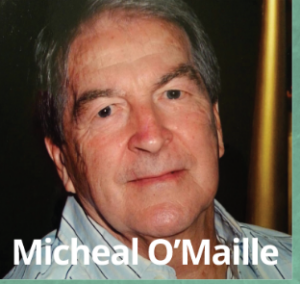 Mícheál Ó Máille, a native Irish speaker from Connemara, Co.Galway, offers the Festival a fun, interactive introduction to the Irish language.
Mícheál has performed at Taibhdhearc na Gaillimhe (Ireland's only Irish language theatre), and has taught Irish and lectured on Irish & Celtic history and culture in a variety of settings on three continents, including several years in China.
He has participated in immersion events, teaching all levels, from beginners to advanced; has hosted the Irish radio hour at WRSU, Rutgers N.J.; & has been a frequent guest on American Celtic Television. Mícheál is a teacher & lecturer with Daltaí na Gaeilge, is a founding member of the Claddagh na n-Gael branch of Comhaltas Ceoltóirí Éireann, and is the resident Irish Language teacher at the annual Catskills Irish Arts Week.
His awards include the (inaugural) Douglas Hyde Award (2016), An Bonn Dúchas (2017), and The St. Brendans Award (2018) for his contributions to Irish Language & Culture in North America.
5:00 – 6:00 pm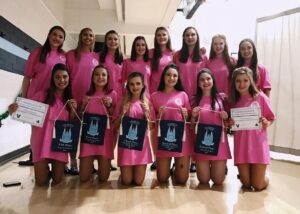 Ever wondered how it's done? Find out with this dynamic live teaching event. The Celtic Cats are the University of Vermont's first, only, and best Irish dancing club! Since 2009, they have provided an entry to the art for new dancers as well as a venue for seasoned professionals. Beyond their annual UVM ceili, they present traditional and original choreography at numerous community events in Chittenden County. [ Facebook ]
---
Sunday, March 14
12:00 noon
Kitchen Ceili with Gerlisa (2): How to Dance Sevens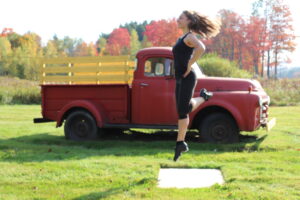 In this second, short ceili dance lesson prepared for the Irish Heritage Festival, Gerlisa will show us the basic footwork involved in Irish reels. Gerlisa Garret, TCRG, is certified by the Irish Dancing Commission (CLRG) in Dublin, Ireland. Facebook
The O'hAnleigh Hour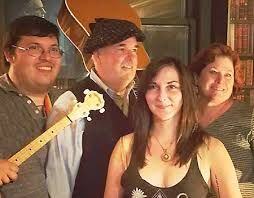 Join Tom Hanley, Cindy Hill, Becca Hanley and Matt Bean for an hour of original and traditional Irish-American music from the band O'hAnleigh. Download the songbook to sing along! You'll find the songbook link in the Festival Facebook event and on the Burlington Irish Heritage website on Sunday. O'hAnleigh Facebook
---
Monday, March 15
12:00 noon
YouTube Playlists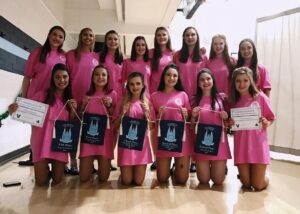 UVM's premier Irish dancing club, The Celtic Cats, return to the Festival to share highlights from some of their recent performances, including a presentation like none you have seen before at the 2019 Villanova Intercollegiate Irish Dancing Festival. Facebook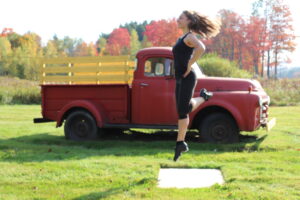 Moving on from reel time steps, Gerlisa's third lesson in ceili dancing will introduce the jig step for beginners, including the elegant 'rising step.' Gerlisa Garrett, TCRG, is certified by the Irish Dancing Commission (CLRG) in Dublin, Ireland. Facebook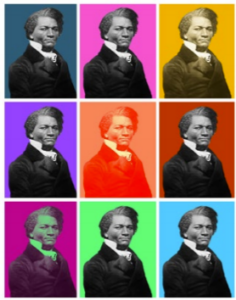 The Irish Embassy and its Consulates in the United States have been partnering for several months with many other organizations, including University College Cork, to celebrate Frederick Douglass's 'transformative' visit to Ireland, 175 years ago. At this time of extensive debate in both the United States and Ireland on racial inequities and how to address them, the program reflects on the legacy of arguably history's greatest abolitionist and civil rights activist, Frederick Douglass. The Festival presents this excerpt from their week-long celebration.
"I can truly say, I have spent some of the happiest moments of my life since landing in this country. I seem to have undergone a transformation. I live a new life."

Frederick Douglass from Belfast, towards the end of his stay.
In the autumn of 1845, a young and charismatic African-American abolitionist sailed from America to Ireland for a four-month lecture tour of the island. Frederick Douglass had been born into slavery but escaped bondage on a plantation in Maryland by fleeing to the North, where he became a prominent anti-slavery activist. Douglass lectured to large and enthusiastic audiences in Dublin, Wexford, Waterford, Cork, Limerick and Belfast, met with Daniel O'Connell, and reflected upon the devastating effects of the famine then beginning to sweep the nation. #DouglassWeek programming highlights the experience of Douglass and other abolitionists and explores issues like identity, migration and race in contemporary Ireland. It emphasizes the continued importance of remembering slavery and the intertwined struggle for independence and liberation in Ireland and the US. #DouglassWeek consists of six different strands of interest: Historical, Literary, Educational, Music, Creative and Sports. All strands consist of a series of talks and "in conversation" events as well as other projects, performances and initiatives and contributions from the UK and the US. All were recorded and are available on YouTube: #DouglassWeek Team – YouTube
---
Tuesday, March 16
6:30 – 8:00 pm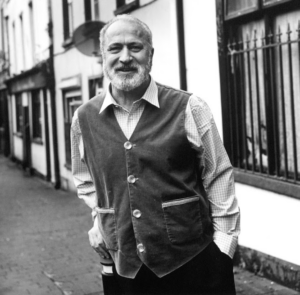 Cork-born Greg Delanty is a celebrated poet on both sides of the Atlantic and a recipient of many awards, including the Guggenheim award for poetry. He has appeared in various significant US anthologies and is the author of numerous collections of poetry, the newest of which, "No More Time," will be presented here along with some translated works. Greg will be accompanied musically by John Murray and by Young Tradition Vermont's Fiddleheads, marking the finale of their 2021 residency with Sarah Blair.
---
Wednesday, March 17
6:30 – 8:00 pm
The following recordings will be interspersed with live performances from Andy Naughton (song), Mary Ann Samuels (tin whistle), Declan McCabe ('The Sick Note,') and Yasi Zeichner of Young Tradition Vermont (song).
Traditional Music with The Zeichner Trio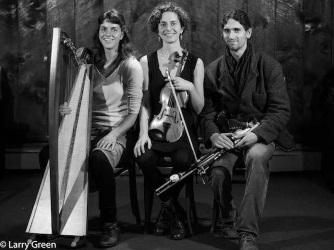 The Zeichner Trio is a sibling band that plays traditional Irish and Old-Time/Appalachian music – with Louli on 4 and 5-string banjos and Celtic harp, Oliver on the penny whistle and the uilleann pipes, and Yasi with fiddle and sean nós dance. The group has gained a reputation in Vermont as standard-bearers of tradition. Facebook
Each a strong and well-developed singer, their voices blend in both harmony and unison as only families can, bringing age-old melodies alive with creativity in voice and instrument. Since 2012, they have entertained audiences with lively fiddle tunes and dance steps, mournful ballads, lyrical bagpipes, and timeless banjo – and a bit of sibling banter, of course.
The trio has played for the VT Statehouse Farmer's Night, The Big E in Springfield MA, New World Festival in Randolph, Club Passim in Boston; they've opened for the Burren Backroom Series in Boston, and performed for the Irish ambassador's 2018 visit to VT.
I Am Ireland: Poems of Irish Identity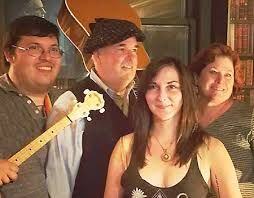 Tom Hanley and Cindy Hill (of O'hAnleigh) curate and read a selection of Irish poetry across the ages that declares and celebrates the Irish nation, from the ancient "Invocation of Ireland" by Amergin in 500 BC to the iconographic "Dublin" by Louis MacNeice in the mid-20th century.
Kitchen Ceili with Gerlisa (4): How to Dance Jig Sevens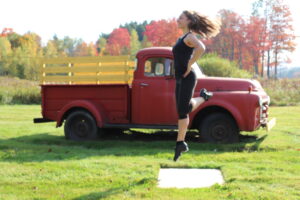 In the last lesson of this four-part series, Gerlisa will teach how to combine the jig step with the 'sevens' step, adapting this footwork to the rhythm of the jig. Gerlisa Garret, TCRG, is certified by the Irish Dancing Commission (CLRG) in Dublin, Ireland. Facebook
Traditional Music with Sarah Blair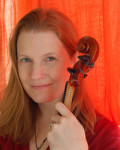 Sarah Blair is known and respected as an Irish-style fiddler and has played for dances, festivals, and concerts across the country. She has been featured on the cover of Fiddler Magazine, which said of her:
"Sarah Blair is simply a great fiddler. Her combination of grit and control makes for music with drive, lift, and a compelling earthiness."

Fiddler Magazine
Dance performance with the McFadden Academy of Irish Dance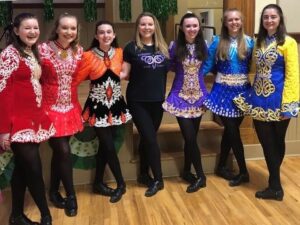 The McFadden Academy of Irish Dance, located in Williston, is a certified Irish dance school celebrating its 12th year in Vermont! In these videos, you will see a combination of soft and hard shoe dances done by some of our performance troupe. Get ready for some lively reels and some strong and rhythmic hard shoe! We hope you enjoy it. Facebook